1 Dec 43 4-Sep-67
10-Sep-46 27-Dec-66
8-Oct-45 7-Sep-66
11-Nov-46 11-Mar-68
27 Oct 41 20-May-67
26-May-43 25-Oct-69
29-Mar-48 4-Oct-68
8-Jun-44 22-Feb-69
31 March 49 22-May-68
5-Nov-47 8-May-68
23-Jun-47 3-Feb-69
25-Aug-47 8-Jan-68
11 Feb 47 21-May-67
18 March 47 17-Apr-67
11-Nov-50 30-Jul-70
3 June 47 12-May-67
20-Mar-48 13-Jul-69
13-May-49 22-Nov-69
7-Oct-49 7-Apr-68
24-Dec-46 22-Mar-67
7-Nov-47 11-May-68
10-May-46 7-Jan-68
21 Oct 38 30-Jun-66
22-Jan-47 5-May-68
29-Jun-49 5-Sep-69
3-Feb-50 18-Aug-69
14 Nov 46 28-May-67
22-Mar-43 15-Nov-66
31-May-46 18-May-68
1-May-27 17-Feb-68
14-Jan-48 9-Feb-69
24-Jan-26 7-Apr-69
10-Sep-50 17-Apr-70
28-Jan-42 20-Jul-68
22 May 47 14-Jun-67
31-Dec-46 14-Feb-68
18-Dec-46 8-Feb-68
22-Nov-38 21-Apr-66
23-Nov-38 14-Mar-67
19 Jan 47 8-Aug-67
13-Aug-48 29-Feb-68
14 July 40 19 May 67 MIA
9-Feb-51 10-Aug-69
3 Aug 48 22-Oct-67
13 Oct 48 14-Dec-67
28 Oct 46 15-Aug-67
26-Feb-47 11-Nov-68
2 Jan 49 10-Dec-67
18-Oct-46 8-Oct-68
24 July 47 8-Jun-67
13-Dec-46 29-Feb-68
11 Feb 47 30-Nov-67
27 Dec 40 24-Mar-67
23 Aug 46 27-Jun-67
16-Nov-47 23-Oct-69
1-Apr-47 27-Mar-69
2 Aug 47 21-Apr-67
28-Dec-39 19-Dec-66
11-Aug-43 25-Dec-66
15-Nov-46 25-Mar-70
28 Jan 41 20-Nov-67
9-Nov-46 6-Mar-69
3-Apr-46 23-Nov-66
21 Nov 47 28-Dec-67
17-Mar-48 22-Nov-69
21-Nov-49 9-Aug-69
14 Feb 48 25-Aug-67
10-Dec-41 11-Feb-65
19-May-49 21-Sep-71
17-Oct-47 15-Jun-68
3 Jan 47 30-Apr-67
23-Oct-47 12-May-68
31-Dec-48 19-Jul-68
18-Jan-46 29-May-66
28-Jan-47 4-Mar-66
4-Jan-49 27-Feb-70
12-Aug-46 8-Apr-68
10-May-46 9 Jan 68 MIA
30 April 47 2-Sep-67
19-Feb-50 2-Jun-69
22 Aug 45 6-Sep-67
11 Aug 48 19-Dec-67
16-Dec-67 28-Dec-67
29-Oct-45 7-Jan-68
25-Jul-46 14-Jan-67
24-Nov-36 20-Nov-69
II 25-Mar-48 14-Sep-69
23-Apr-48 28-Oct-68
13-Mar-49 16-Aug-69
5-Mar-48 21-Feb-69
26-Oct-48 12-Aug-69
31 July 46 8-Oct-67
22-Jan-44 20-Jul-68
27-Sep-44 23-Feb-67
25-Apr-47 31-May-69
12-Dec-47 6-Jun-68
8-Mar-49 5-Jul-68
25-Jul-47 3-Dec-68
22-Aug-46 13-May-69
11-Nov-47 26-Nov-69
25-Mar-45 6-Nov-68
11 April 47 19-Aug-67
Alfred Frederick Alvarado
Alfred Lee Davis
Anthony Robert Bosh
Benny Kumiyama Sanchez
Carl Delane Nagengast
Charles Edgar Shultz
Charles Leslie Toyias
Charles Rhena Webster
Christopher Landis Kurtz
Clint Collins
Dale Arnold Eckoff
Daniel Diaz
David Alan Haraldson
David Allen Richardson
David Andrew Allen
David Lee Gale
David Roy Maier
David Williams III
Dennis Lee Knott
Earlie C. Hamilton Jr.
Edward Anthony Zimmerman
Elliott Wayne Moore
Franz Gerhard Prediger
Gary Olin Schlamp
Gary William Lahna
George Allen Guy
George Myron Walkinshaw
Gerald Johnson
Gilbert Howard Muncy
Glenn Miller Hayden
Gregory Michael Leinen
Harry Leo Morris Jr.
Harvey David Rogers Jr.
Henry Lee Bradshaw
Herbert Alvin Warner Jr.
Hoard Clayton Bell
Innes Lee Marland
Ivan Joseph Broyles
James Barton Cummings
James Brady Walters
James Carl McPhearson
James Kelly Patterson
James Michael Mooney
James Robert Jones
Jay L. Wright
Jerry Eugene Butts
Jerry Ray Hardy
Jim Lawrence Harnden
John Bradford Stevens
John Thomas McMahon
John W. Cook
John William Hartman
Joseph Patrick Murphy
Kenneth Arthur Millard
Larry Michael Cleveland
Leslie Wayne Worl
Marc Alen Brown
Marcos Edmond San
Marshal Lynn Horton
Michael Eugene Justus
Michael James Kiley
Michael Lee Woodside
Michael Paul McConohay
Patrick Emmett Anglim
Patrick Lawrence Purdin
Paul Anthony De Vegter
Paul Doane Caramella
Peter Anthony Semmer
Randall Bruce Bernard
Randall T. Planchon II
Randy Neal McPhee
Richard Alan Bowers
Richard Allen Whipkey
Richard Eyre Crowe
Richard Graham Allen
Richard John Connelly
Richard John Smith
Richard Raymond Rehe
Richard Wayne Kloese
Rickey Dale Dycus
Robert Brynley Griffiths
Robert Daniel Kline
Robert Lee Boyer
Robert Lee Heller
Robert Lee Painter
Robert Marion Newberg
Robert Richard Baade II
Rocky Lee Blair
Rodney Dwight Little
Ronald James Corbin
Ronald Lee Short 2
Ronald Paul Ruyff
Roosevelt Sherman Jr.
Roy Colyn Green
Steven Craig Owen
Steven Francis Dolim Jr.
Steven Louis Graham
Terrance Lee Mercke
Theodore R. Vivilacqua
Timothy Ernest Badostain
William DeWitt Nelson
William Edgar Compton
This Memorial Plaque
is located in Houghton Park
[corner of Atlantic Ave. & East Harding St.]
at the Huey Helicopter.
1965
Peter Anthony Semmer 10-Dec-41 11-Feb-65
1966
Richard Graham Allen 28-Jan-47 4-Mar-66
Ivan Joseph Broyles 22-Nov-38 21-Apr-66
Richard Eyre Crowe 18-Jan-46 29-May-66
Franz Gerhard Prediger 21 Oct 38 30-Jun-66
Anthony Robert Bosh 8-Oct-45 7-Sep-66
Gerald Johnson 22-Mar-43 15-Nov-66
Michael Paul McConohay 3-Apr-46 23-Nov-66
Marcos Edmond San 28-Dec-39 19-Dec-66
Marshal Lynn Horton 11-Aug-43 25-Dec-66
Alfred Lee Davis 10-Sep-46 27-Dec-66
1967
Robert Lee Painter 25-Jul-46 14-Jan-67
Roy Colyn Green 27-Sep-44 23-Feb-67
James Barton Cummings Jr. 23-Nov-38 14-Mar-67
Earlie C. Hamilton Jr. 24-Dec-46 22-Mar-67
Joseph Patrick Murphy 27 Dec 40 24-Mar-67
David Allen Richardson 18 March 47 17-Apr-67
Marc Alen Brown 2 Aug 47 21-Apr-67
Randy Neal McPhee 3 Jan 47 30-Apr-67
David Lee Gale 3 June 47 12-May-67
James Kelly Patterson 14 July 40 19 May 67 MIA
Carl Delane Nagengast 27 Oct 41 20-May-67
David Alan Haraldson 11 Feb 47 21-May-67
George Myron Walkinshaw 14 Nov 46 28-May-67
John Thomas McMahon 24 July 47 8-Jun-67
Herbert Alvin Warner Jr. 22 May 47 14-Jun-67
Kenneth Arthur Millard 23 Aug 46 27-Jun-67
James Brady Walters 19 Jan 47 8-Aug-67
Jerry Eugene Butts 28 Oct 46 15-Aug-67
William Edgar Compton III 11 April 47 19-Aug-67
Paul Doane Caramella 14 Feb 48 25-Aug-67
Richard Wayne Kloese 30 April 47 2-Sep-67
Alfred Frederick Alvarado 1 Dec 43 4-Sep-67
Robert Brynley Griffiths 22 Aug 45 6-Sep-67
Ronald Paul Ruyff 31 July 46 8-Oct-67
James Robert Jones 3 Aug 48 22-Oct-67
Michael James Kiley 28 Jan 41 20-Nov-67
John William Hartman 11 Feb 47 30-Nov-67
Jim Lawrence Harnden 2 Jan 49 10-Dec-67
Jay L. Wright 13 Oct 48 14-Dec-67
Robert Daniel Kline 11 Aug 48 19-Dec-67
Patrick Emmett Anglim 21 Nov 47 28-Dec-67
Robert Lee Boyer 16-Dec-67 28-Dec-67
1968
Robert Lee Heller 29-Oct-45 7-Jan-68
Elliott Wayne Moore 10-May-46 7-Jan-68
Daniel Diaz 25-Aug-47 8-Jan-68
Richard Raymond Rehe 10-May-46 9 Jan 68 MIA
Innes Lee Marland 18-Dec-46 8-Feb-68
Hoard Clayton Bell 31-Dec-46 14-Feb-68
Glenn Miller Hayden 1-May-27 17-Feb-68
John W. Cook 13-Dec-46 29-Feb-68
James Carl McPhearson 13-Aug-48 29-Feb-68
Benny Kumiyama Sanchez 11-Nov-46 11-Mar-68
Dennis Lee Knott 7-Oct-49 7-Apr-68
Richard John Smith 12-Aug-46 8-Apr-68
Gary Olin Schlamp 22-Jan-47 5-May-68
Clint Collins 5-Nov-47 8-May-68
Edward Anthony Zimmerman 7-Nov-47 11-May-68
Richard Alan Bowers 23-Oct-47 12-May-68
Gilbert Howard Muncy 31-May-46 18-May-68
Christopher Landis Kurtz 31 March 49 22-May-68
Steven Francis Dolim Jr. 12-Dec-47 6-Jun-68
Randall T. Planchon II 17-Oct-47 15-Jun-68
Steven Louis Graham 8-Mar-49 5-Jul-68
Richard Allen Whipkey 31-Dec-48 19-Jul-68
Roosevelt Sherman Jr. 22-Jan-44 20-Jul-68
Henry Lee Bradshaw 28-Jan-42 20-Jul-68
Charles Leslie Toyias 29-Mar-48 4-Oct-68
John Bradford Stevens 18-Oct-46 8-Oct-68
Rocky Lee Blair 23-Apr-48 28-Oct-68
William DeWitt Nelson 25-Mar-45 6-Nov-68
Jerry Ray Hardy 26-Feb-47 11-Nov-68
Terrance Lee Mercke 25-Jul-47 3-Dec-68
1969
Dale Arnold Eckoff 23-Jun-47 3-Feb-69
Gregory Michael Leinen 14-Jan-48 9-Feb-69
Ronald James Corbin 5-Mar-48 21-Feb-69
Charles Rhena Webster 8-Jun-44 22-Feb-69
Michael Lee Woodside 9-Nov-46 6-Mar-69
Leslie Wayne Worl 1-Apr-47 27-Mar-69
Harry Leo Morris Jr. 24-Jan-26 7-Apr-69
Theodore R. Vivilacqua 22-Aug-46 13-May-69
Steven Craig Owen 25-Apr-47 31-May-69
Rickey Dale Dycus 19-Feb-50 2-Jun-69
David Roy Maier 20-Mar-48 13-Jul-69
Paul Anthony De Vegter 21-Nov-49 9-Aug-69
James Michael Mooney 9-Feb-51 10-Aug-69
Ronald Lee Short 26-Oct-48 12-Aug-69
Rodney Dwight Little 13-Mar-49 16-Aug-69
George Allen Guy 3-Feb-50 18-Aug-69
Gary William Lahna 29-Jun-49 5-Sep-69
Robert Richard Baade II 25-Mar-48 14-Sep-69
Larry Michael Cleveland 16-Nov-47 23-Oct-69
Charles Edgar Shultz 26-May-43 25-Oct-69
Robert Marion Newberg 24-Nov-36 20-Nov-69
Patrick Lawrence Purdin 17-Mar-48 22-Nov-69
David Williams III 13-May-49 22-Nov-69
Timothy Ernest Badostain 11-Nov-47 26-Nov-69
1970
Richard John Connelly 4-Jan-49 27-Feb-70
Michael Eugene Justus 15-Nov-46 25-Mar-70
Harvey David Rogers Jr. 10-Sep-50 17-Apr-70
David Andrew Allen 11-Nov-50 30-Jul-70
1971
William George Hasselman 18-Mar-49 29-Apr-71
Randall Bruce Bernard 19-May-49 21-Sep-71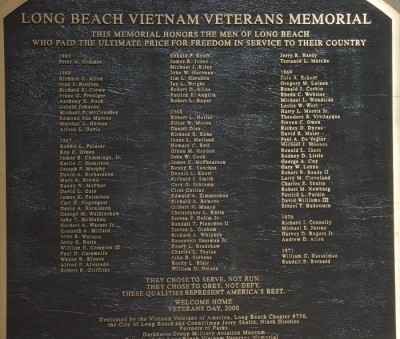 See bottom of this page for Current Names
12/12/19
Mike Dunne passed away in the evening.
RIP
He had served in Air Force with one year in Vietnam in 1968.
We will miss Mike very much. Mike was a very good friend and helped many of us with claims. He did make an impact on saving Veterans of all conflicts.
God Bless You Mike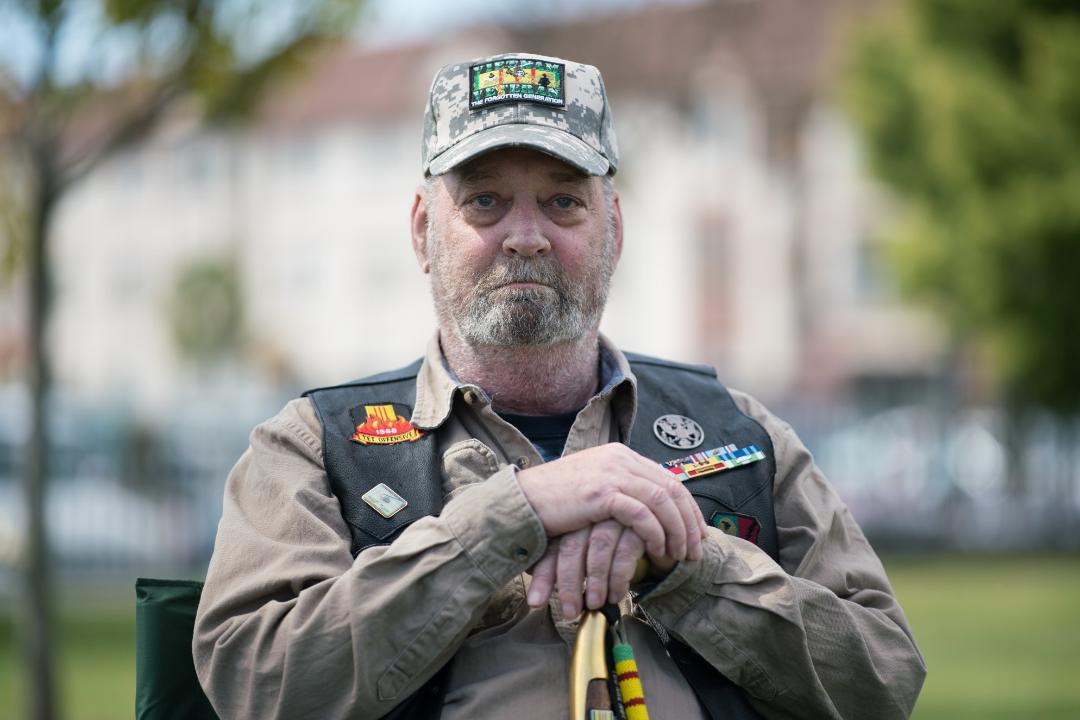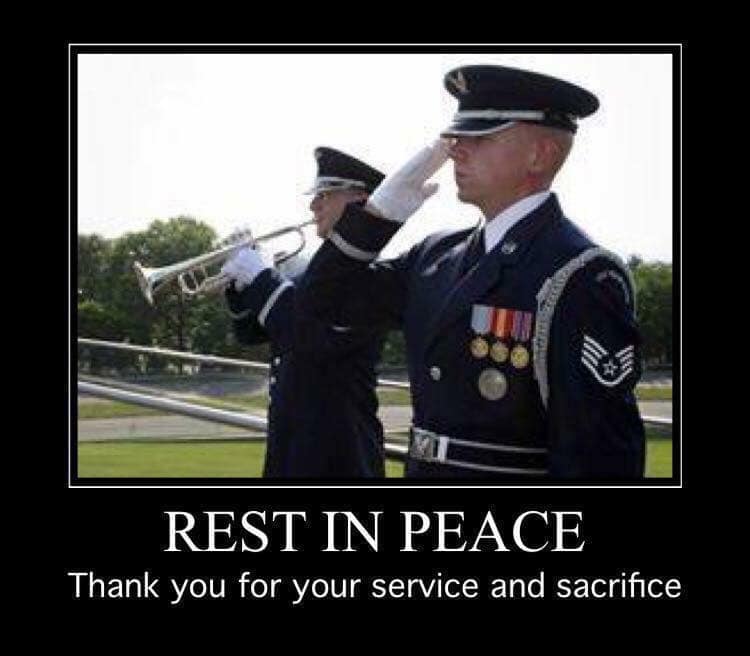 On November 24th, 2019, Chapter 756 member
Floyd Burke
passed away at the VA.
God Bless You Floyd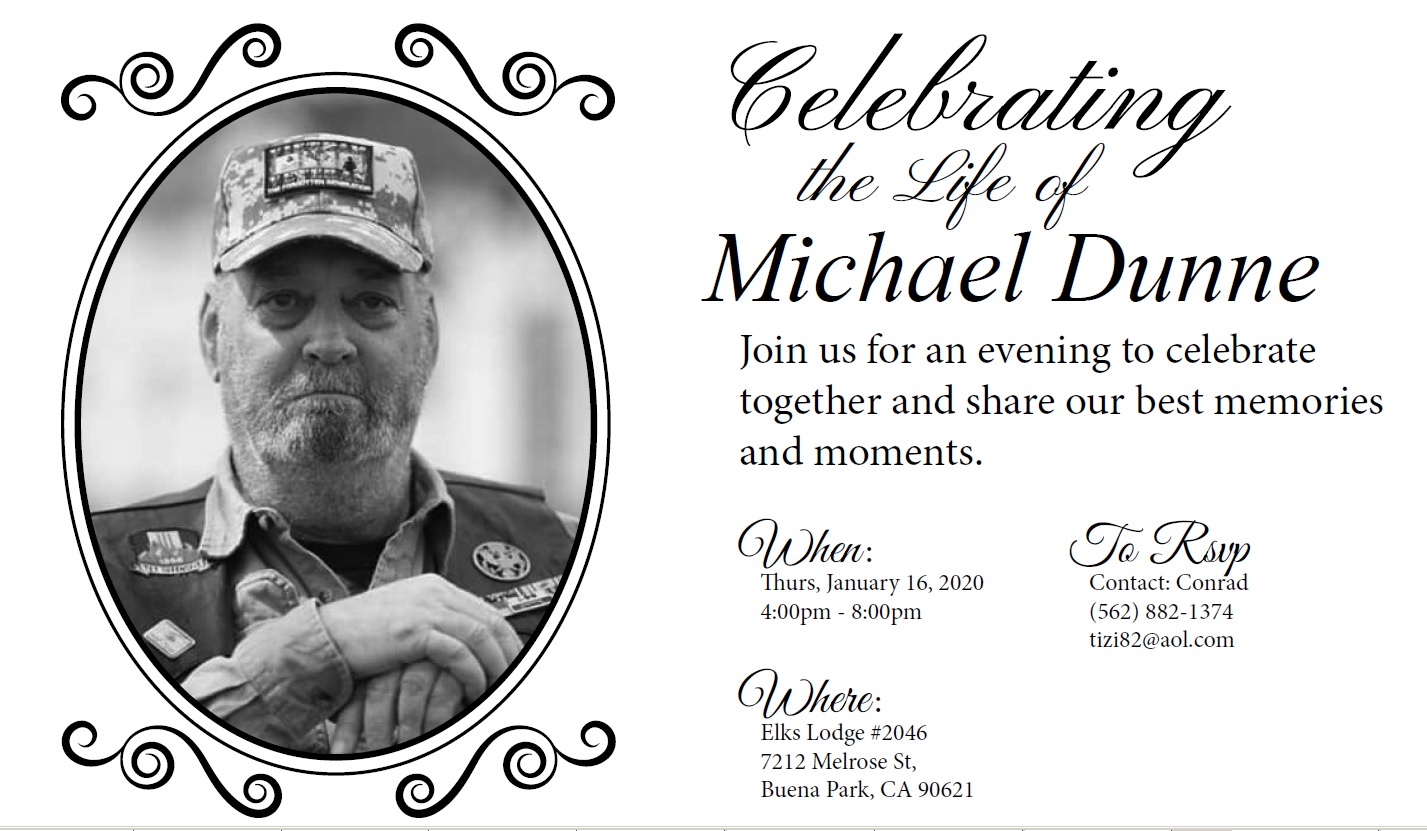 https://www.mem.com/Biography/964633/16982908/16983036?title=Biography
Floyd Burke
Born: November 29, 1951
Biography
FRIENDLY FIRE

One of my most vivid memories of Vietnam relates to events that occurred during my last 40 days in-country. Our battalion was the spearhead of the 101st Airborne Division (Ambl) during one of the largest and last Allied operations of the Vietnam War, "Operation Lamson 219" – the incursion of the South Vietnamese Army into Laos.

Our Forward Command Post (FCP) was located at Khe Sanh. Our outfit's area of operation was LZ Shepherd, a small radio-relay outpost just off Route 9 along the Laotian border in the hills of Khe Sanh. Our mission objective was to help supply communications for our units in this area, and to maintain rear security support for the Army of the Republic of Vietnam (ARVN) units while they were in Laos.

The panoramic view from our mountaintop was picturesque. Our days were business as usual: close radio watch, cleaning weapons and, when possible, daydreaming of home, the U.S.A. Occasionally 122mm North Vietnamese Army (NVA) rockets would buzz over our heads en route to Khe Sanh. Fortunately we had no contact with them or the Viet Cong (VC) during this time.

It was a beautiful day in late March of 1971. Suddenly, and seemingly from out of nowhere, an American artillery white phosphorus "marking round" exploded violently 200 meters directly overhead. We were all too familiar with the "fire for effect" follow-up procedures, about the only hope being a dash for our foxholes and prayer. Nevertheless, I was a "short-timer" and my gut feeling was telling me that whoever was responsible for this miscalculation were sure to be "friendlies" in the immediate area, somewhere just out of sight and unaware of our location.

Access to our hill was possible only through one barely-negotiable entrance, a small, densely wooded area some 60 meters east of our defensive perimeter. We kept this region fortified with 105/155mm Howitzers and/or a mortar platoon. My short-timer's intuition was telling me that this was the location of our unknown intruders, friend or foe.

The instant that the marking round exploded overhead, I grabbed my M-16 rifle, a bandoleer of ammo and two grenades, and set out running toward the access area in hopes of locating the source of impending disaster, and to "check fire" this potential tragedy.

As I approached the wooded area, I peered over a small slope and to my complete surprise, I had stumbled upon a full-fledged Mechanized Infantry squad. Their Commanding Officer was standing alongside his radio operator (RTO) making the necessary adjustments on his marking rounds. They were in the process of commandeering our mountain, via the use of artillery to help clear a makeshift road and to detonate any land mines that might be in the area to ensure safe travel of their track vehicles.

Due to the dense woodland foliage and the fact that I had approached them from their blind side, my position wasn't compromised, and they were certainly unaware of our presence in the area. With precious time running out, I need to touch base with them, and fast! While taking a few seconds to evaluate the situation, I realized I was alone and didn't want to risk spooking them for fear of being shot by accident, that by the time they would recognize me as one of them, the firing mission would be over.

Without further hesitation and while remaining under cover, I ran back to our perimeter to fetch our Commo-Chief, Lt. Zase. Together we hurriedly returned and I covered his flank as he rushed their position to "check fire" their intended objective and make known our presence. I stood close watch and observed as Lt. Zase secured the RTO's handset to intercept their radio communications. He was successful and we were elated knowing that for the time being, all were out of harm's way.

As the adrenaline wore off, it was time to rejoice! However, Murphy's Law had one more surprise in store for us. Feeling pretty good at the outcome of our mission, Lt. Zase and I walked back toward our hill. On my way to locate the source of the friendly fire, I had passed a large rock, but naturally hadn't taken time to examine it. Now I wanted a witness to verify this "find" of mine, what I thought to be nature's perfect rock! As we approached it now, we saw that two of our men who had seen me take off and followed me, were checking it out. Minus the bumpers, headlights, and wheels, at the time - it was about the same size and shape of an old Volkswagen car, a near perfectly smooth semi-oval design camouflaged with a few weeks' dense jungle overgrowth. As we removed the foliage, closer examination revealed, to our astonishment, an unexploded dud C-130 aerial bomb! It was complete with olive-drab paint and a few choice words written with Magic Marker for Ho Chi Minh. This incident was reported forthwith. After researching this event, I found out that our comrades had discovered the bomb just prior to Lt. Zase and I returning to the area. Unbeknown to me at the time, as previously mentioned I accidentally located the bomb first. However, due to the camoflaged foliage I thought it was a large rock and our comrades made the discovery before I had a chance.

Soon afterward, our unit relocated to another area of operation, to continue our mission. I pale to imagine what may have happened had a stray artillery round ignited this extremely volatile weapon.

Unfortunately, accidents occur in the inevitable confusion of combat. It has been said, "All's well that ends well." The lesson that I relearned from this wartime experience was, "prior to expediting an artillery mission, remember to survey the target area for possible friendlies."

In closing, I salute you all and may God bless America's most precious resource — our military forces. With best regards,

Sincerely,
Floyd Burke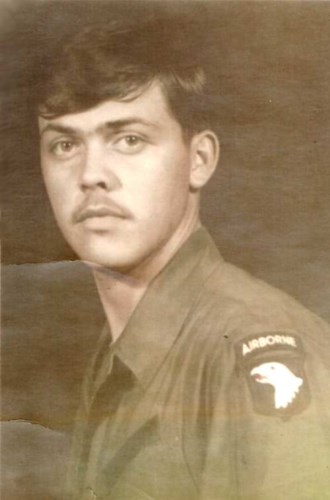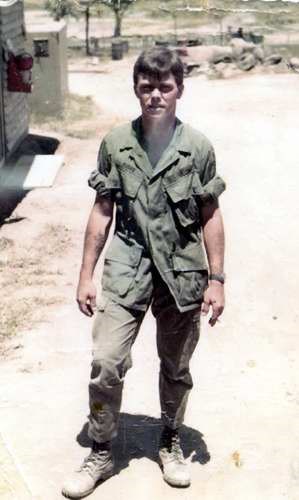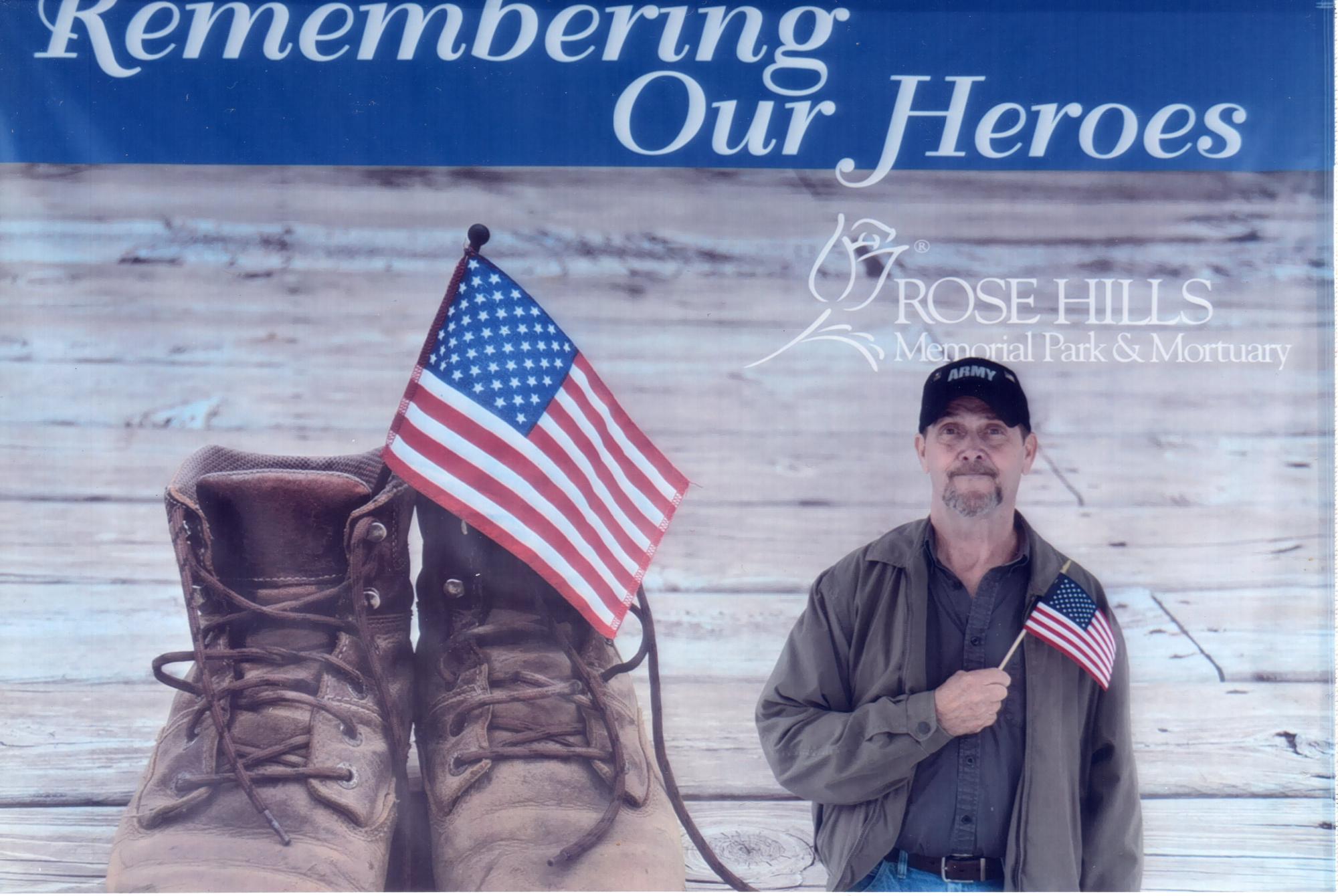 Steve Cooper, US Marines,
Passed away on September 20th, 2020.