VVA Chapter 53
February 25th, 2020
Vietnam Veterans of America, South Bay, Chapter 53 presented a plaque of appreciation to the City of Torrance as a token of our great appreciation recognizing the outstanding support the City of Torrance has given, and continues to give to veterans. Evidence of the support includes but is not limited to: the magnificent annual Armed Forces Day Parade and Military weekend, it's beautiful Veterans Memorial, the Hometown Heroes Banner program, the Veterans Appreciation Luncheon and Resource Fair, and of course, the establishment of the Social Services Commission with a focus on Veterans' issues. For these and many other reasons, we say THANK YOU. It's very clear that the City of Torrance holds our Veterans in the highest regard.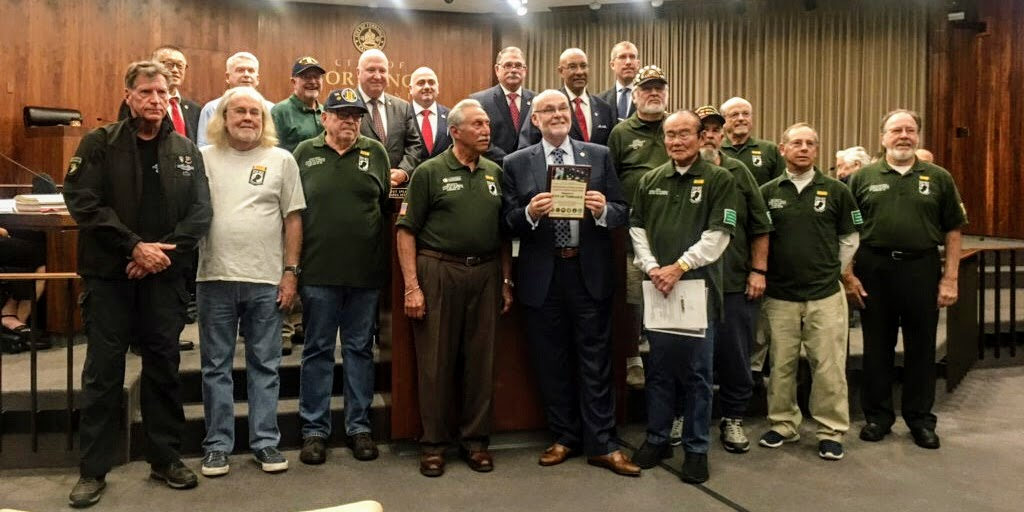 VVA Chapter 1024, with the leadership and perseverence of
Dennis Phelps, President
has obtained a stripped Medical Huey helicopter, aptly named
"LIFESAVER".
This Huey will be present at parades and other functions to remind all
that the Huey was instrumental in saving the lives of wounded soldiers.
Any donation toward its maintenance and upkeep is appreciated.
Contacts:
Dennis Phelps 714-352-9093
Conrad Gomez 562-882-1374